1.Product Introduction of the Virus Sampling Tube Inactivated with nasal swab
Adapted to collection and transportation for Coronavirus, virus of flu, Bird flu, Hand-foot and mouth disease, measles ect. It is also adapted to collection and transport for Virus, such as Chlamydia, Mycoplasma and Ureaplasma sepcimens. Generally collect specimen from:Oral cavity, throat, nasopharynx, anus etc.
System components: Flocked swab, Virus preservation medium and Biohazard bag.
Tube body and cap are made by medical grade Polypropylene, No deformation after HTHP(121℃, 15mins), no embrittlement under low temperature (-196℃).It can bear static extrusion and dynamicimpact. Taper bottom design makes it bear centrifugation and shaking, Leak-age proof. Available with non-pyrogenic and DNase/RNase-free.
How to use the Virus Sampling Tube Inactivated with nasal swab?
1 Peel the pack
2 Peel the swab pack
3 Ask patient to open mouth. Swab the back of the throat near the tonsils thoroughly.
4 Put the swab into the tube, Break off the swab from the break point.
5 Tighten the lid and shake.
6 Put the tube into binhazard bag for transportation.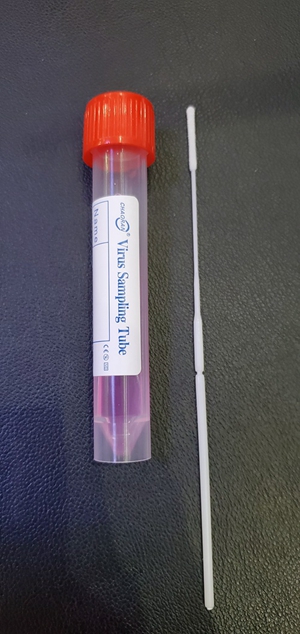 Hot Tags: Virus Sampling Tube Inactivated with nasal swab, Manufacturers, Suppliers, Customized, In Stock, Made In China, Discount, Low Price, Price List, Quality, Latest Selling